"One of the pre-requisites to the orderly and well-balanced growth of urban areas is
an effective system of local water utilities,
the absence of which is recognized as a deterrent to economic growth,
a hazard to public health and an irritant to the spirit and well-being of the citizenry,"
so goes the letters of Presidential Decree 198, otherwise known as the Local Water Utilities Act of 1973.
Bato Water District have been in existence for twenty five years,
is trying its very best to continue delivering decent public service and thus fulfill its mandated duty.
Fully aware that BWD is providing a very important commodity;
our day to day operations are so designed for the optimum satisfaction of our stakeholders.

This Citizen's Charter further enhances our commitment to be a credible,
transparent, efficient and effective government utility.
The basic information regarding BWD provided herein,
aims to make our concessionaires not only well-informed,
but ultimately becomes a strong and reliable partner.


ENGR. PAUL RAYMOND L. BONNEVIE
General Manager D
Bato Water District (BWD), formerly known as Bato Rural Waterworks Association (BRUWASA) was created by virtue of Sangguniang Bayan Resolution No. 898-105 dated December 15,1989. On April 30, 1990, the Local Water Utilities Administration (LWUA) issued the water district Conditional Certificate of Conformance (CCC) No. 437 which qualified it to avail of financial assistance for its developmental plans and targets.
The locality has an existing water supply system which was originally constructed by the Project Management Office (PMO) of the Department Of Public Works and Highways (DPWH) in 1985 and was turned over to Bato Water District in March 1990. The Water System is composed of a deep well as source, an elevated steel tank, and pipelines with sizes ranging from 70 to 200 mm. With the continuous request from the residents of Barangay San Vicente and San Miguel to extend water service to their areas, BWD requested LWUA to prepare an Engineering Study (ES). The amount of Php 3.96 M was allocated for this ES. The components included source development, pumping facilities, pipelines and service connections.
---
OFFICE ADDRESS
Santiago, Bato, Camarines Sur
TELEFAX
(054) 277-4269
E-MAIL ADDRESS
bwd_batocamsur@yahoo.com
OFFICE HOURS
8:00 A.M. to 12:00 P.M.
1:00 P.M. to 5:00 P.M.
Mondays to Fridays EXCEPT Holidays
MISSION

Through its competent, highly motivated
and effective human resource,
this self-reliant, economically viable
and service-oriented institution shall,
to the satisfaction
of the consuming public,
provide quality and efficient water service.


---
VISION

The Bato Water District
is a Service-Oriented Institution
committed to the highest levels
of excellence in
Local Water Utility Systems
within its jurisdiction


---
GOALS

Sustained financial capability
Improved system and reliable operations
Expanded service connection coverage
Increased organizational effectiveness
Secured, controlled, and managed water sources and corresponding recharge areas and watershed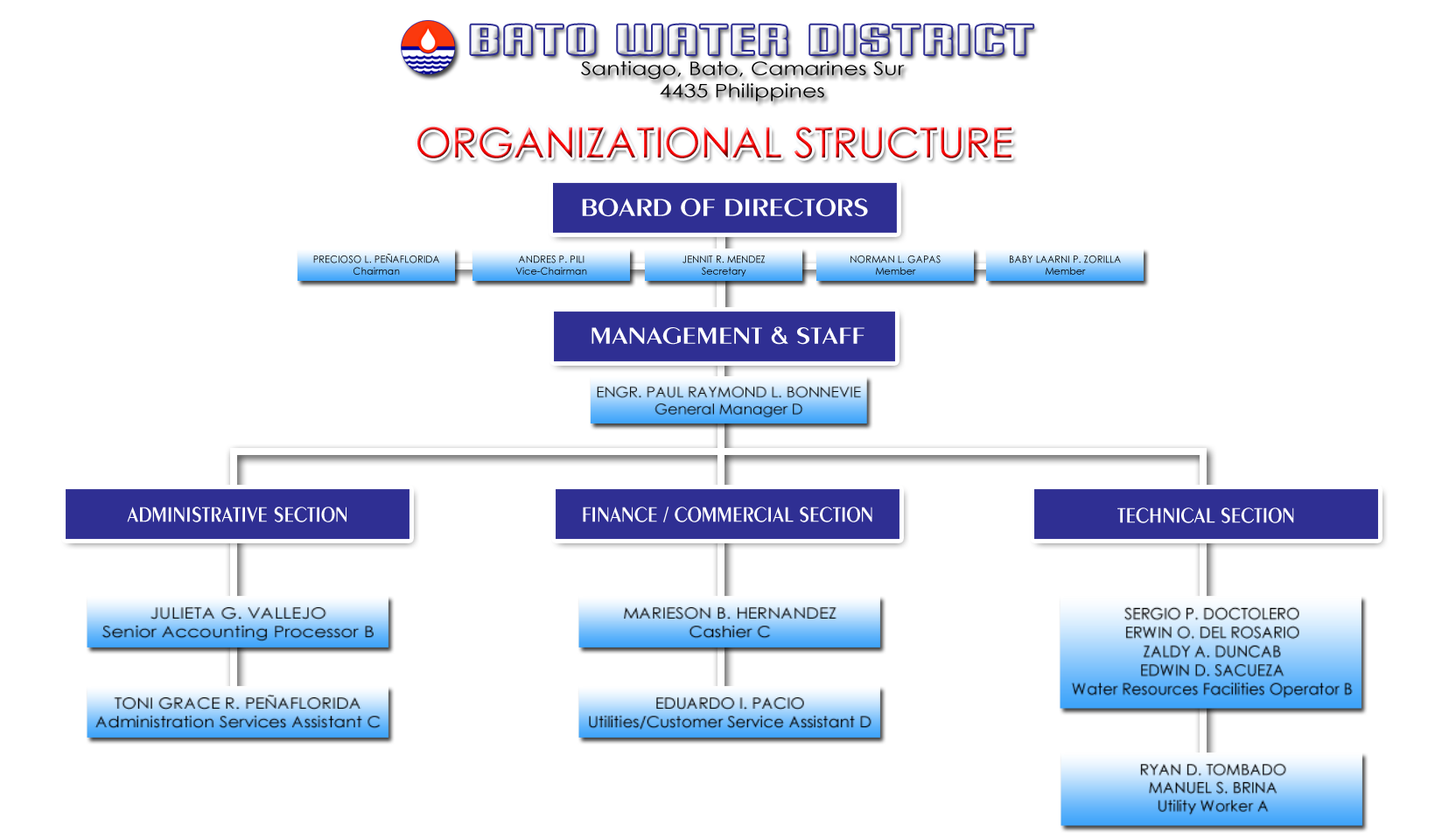 We, the officials and employees of the Bato Water district commit to:
Serve you promptly, efficiently, and with utmost courtesy
by authorized personnel with proper identification from
Monday to Friday, 8:00 a.m. to 5:00 p.m.;

Ensure strict compliance with service standards,
with written explanation for any delays in frontline services;

Respond to your complaint about our services the soonest or within the day through
our complaint and assistance desk and take corrective measures;

Value every citizen's comments, suggestions and needs,
including those with special needs such as the differently-abled, pregnant women and senior citizens;

Empower the public through access to information on our policies, programs, activities
and service through our officials and employees and through our contact number, (054) 277-4269
All these we pledge because YOU deserve no less.
Accomplish our Feedback Form available in the office and put it in the drop box at the front window.
Send your feedback through e-mail (bwd_batocamsur@yahoo.com) or call us at (054)277-4269
Talk to our OFFICER OF THE DAY
If you are not satisfied with our service, your written/verbal complaints shall immediately be attended by the Officer of the Day at the Public Assistance and Complaints DeskTHANK YOU for helping us continuously improve our service
THE MANAGEMENT
In compliance with the provisions under Republic Act No. 9485, otherwise known as "An Act to Improve Efficiency in the Delivery of Government Service to the Public by Reducing Bureaucratic Red Tape, Preventing Graft and Corruption, and Providing Penalties Thereof" or the Anti-Red Tape Act (ARTA) of 2007 and its Implementing Rules and Regulations (IRR) promulgated through Resolution No.081471 by the Civil Service Commission (CSC) to ensure uninterrupted service throughout business hours
FRONTLINE SERVICES INFORMATION BULLETIN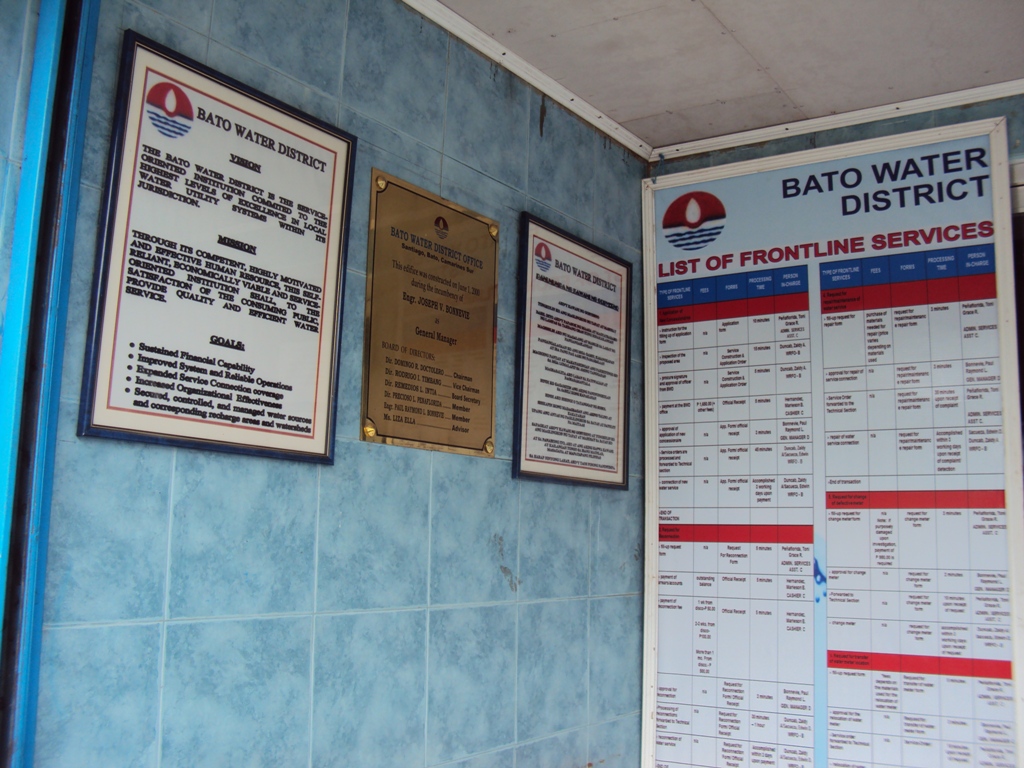 PUBLIC ASSISTANCE AND COMPLAINT DESK
ANTI-FIXER CAMPAIGN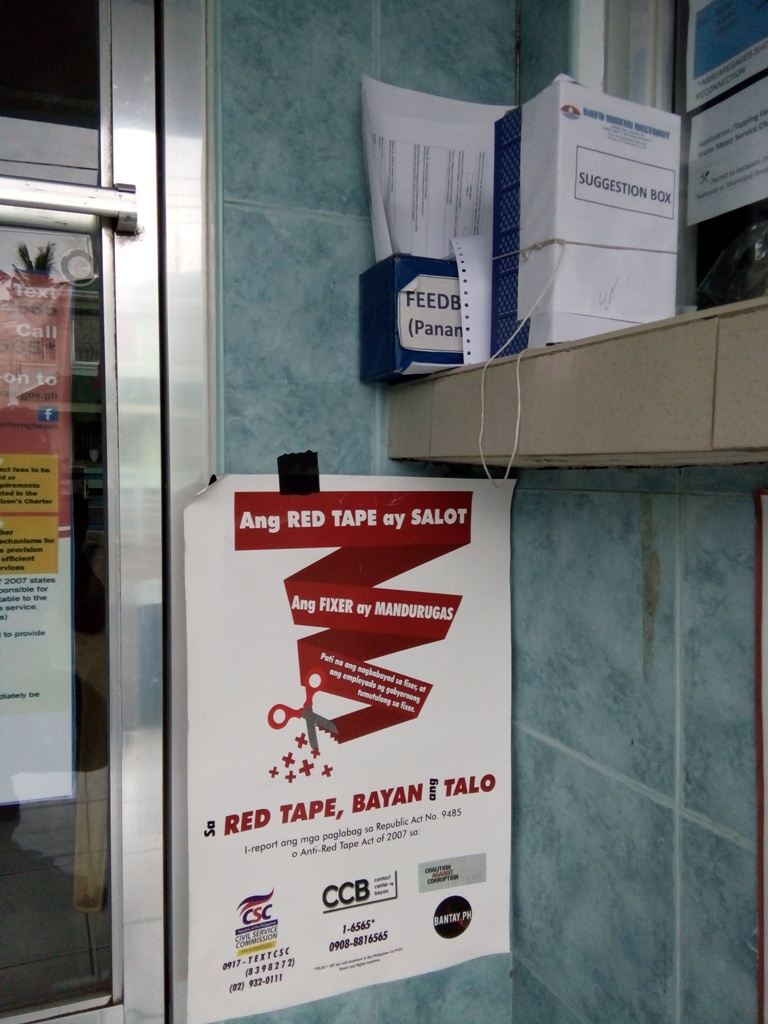 NO NOON BREAK POLICY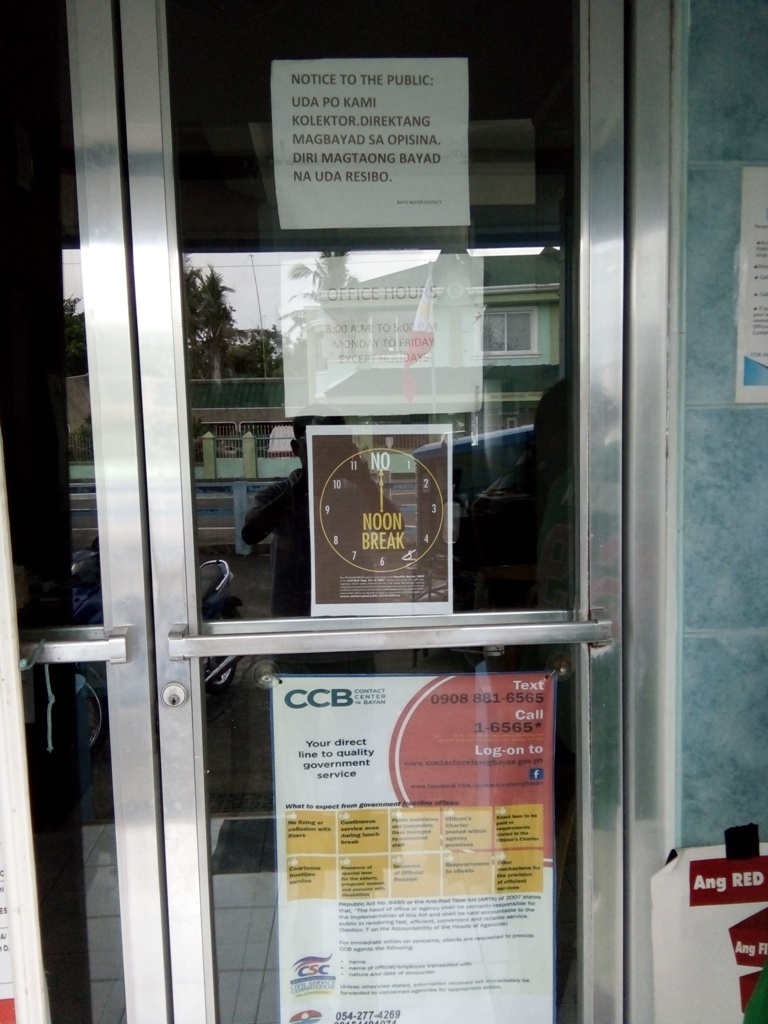 NO SMOKING POLICY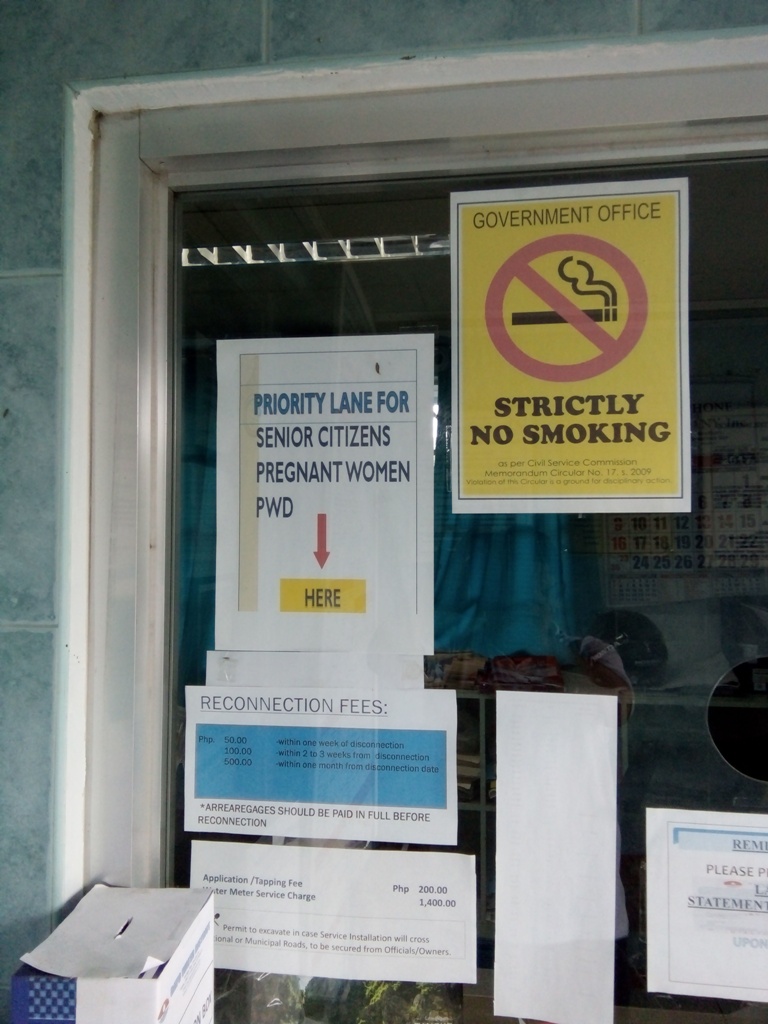 In compliance with the Memorandum Circular No.17 series of 2009 by the Civil Service Commission (CSC) adopting and promulgating the Tobacco Regulation Act of 2003 (Republic Act 9211) and the World Health Organization (WHO) Framework Convention on Tobacco Control (FCTC), Article 8 and its guidelines to encourage people to quit smoking and to protect people from exposure to secondhand smoke.
PRIORITY/SPECIAL LANE FOR PWD'S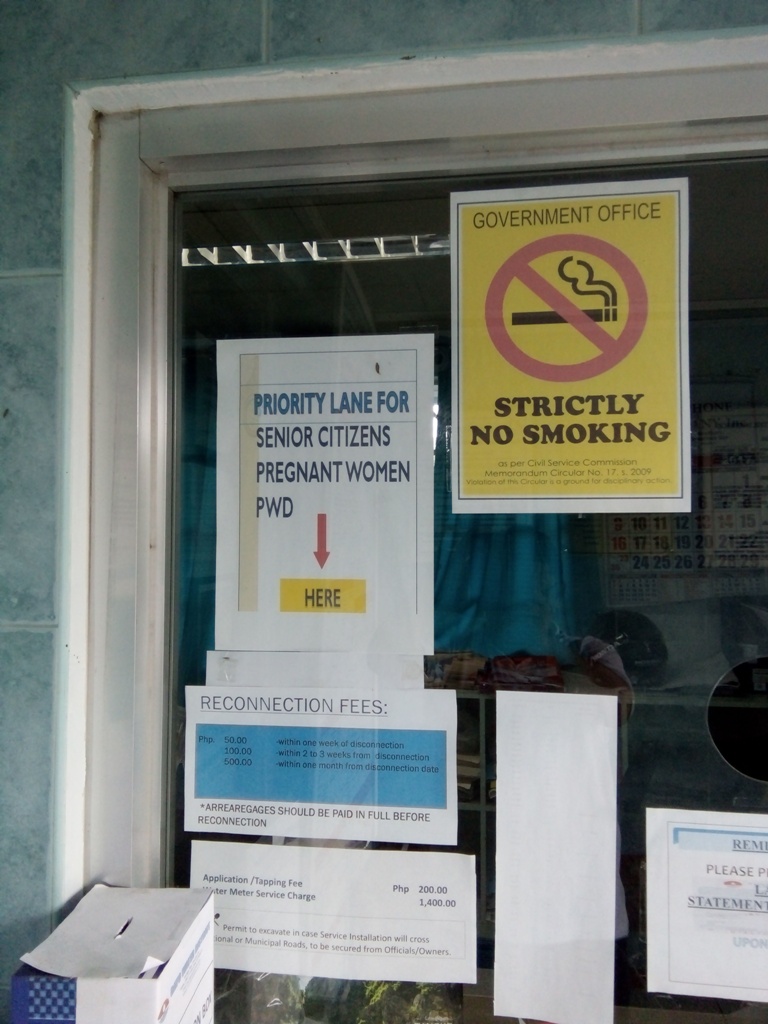 CLOSE CIRCUIT TELEVISION (CCTV) MONITORING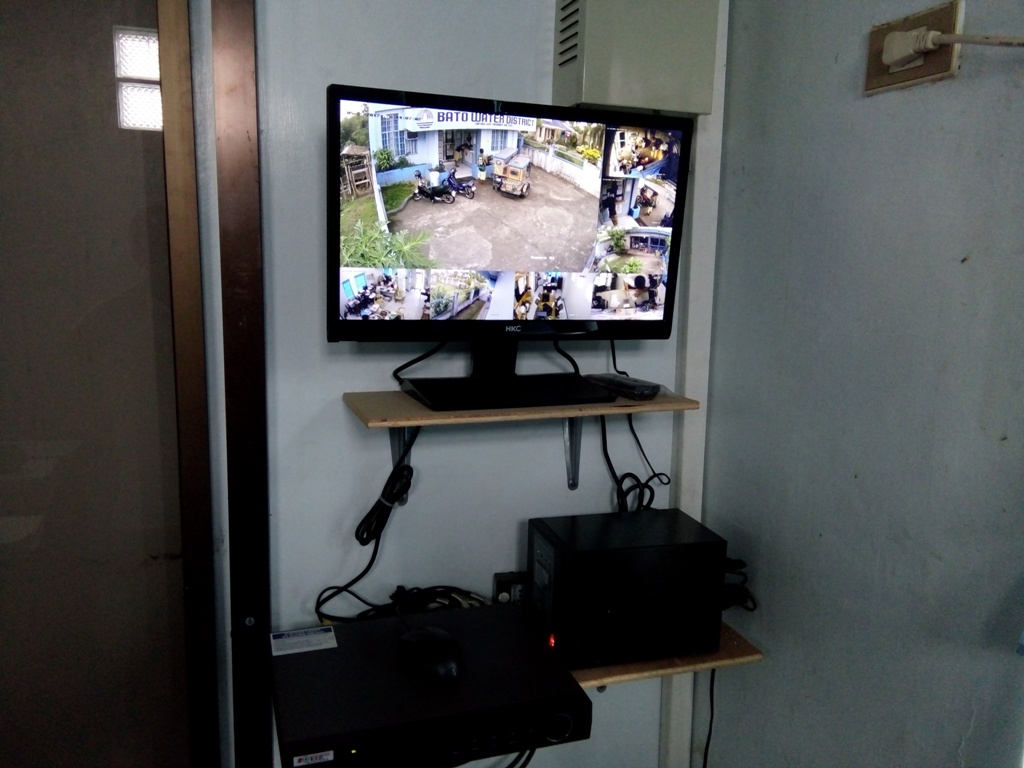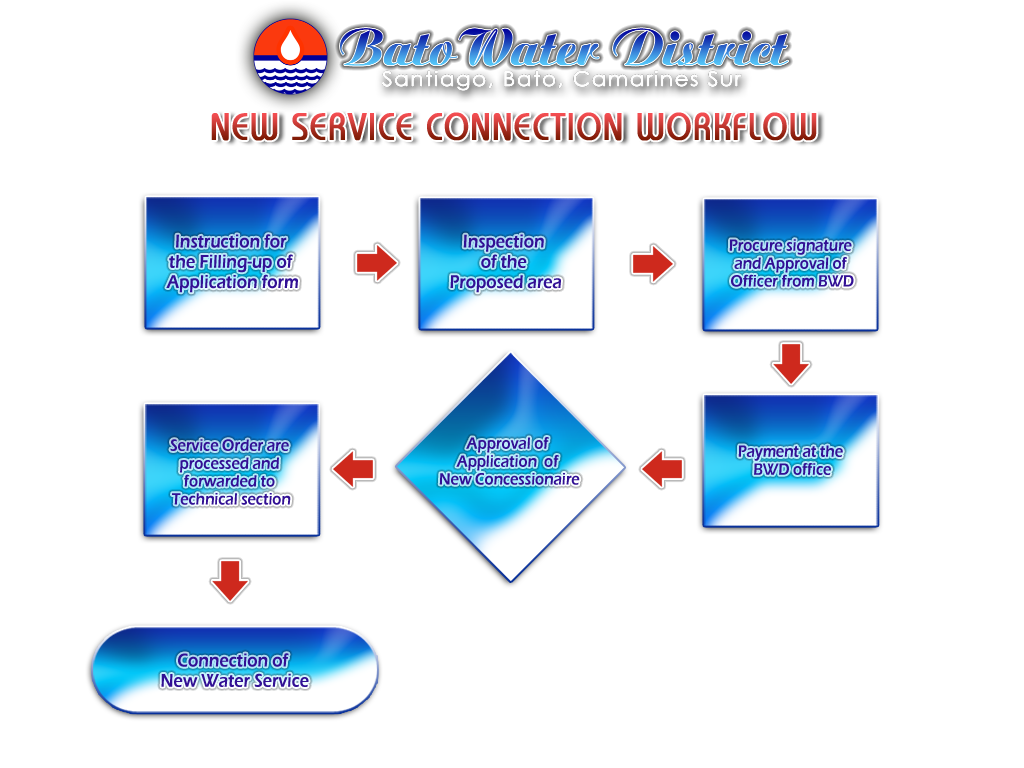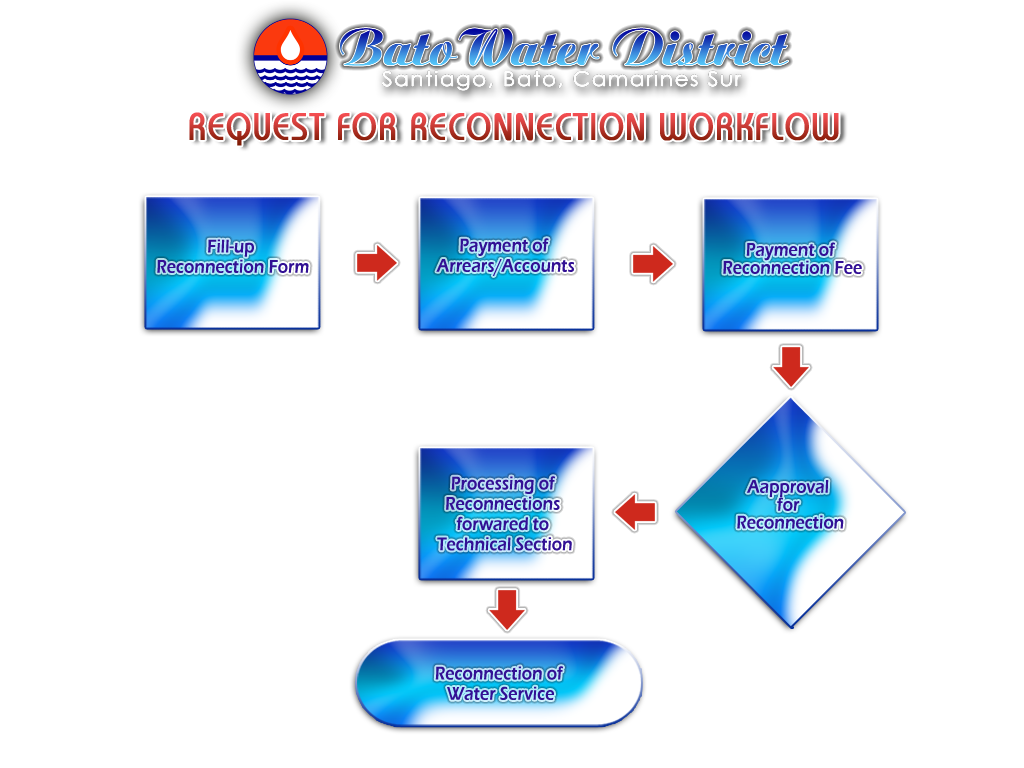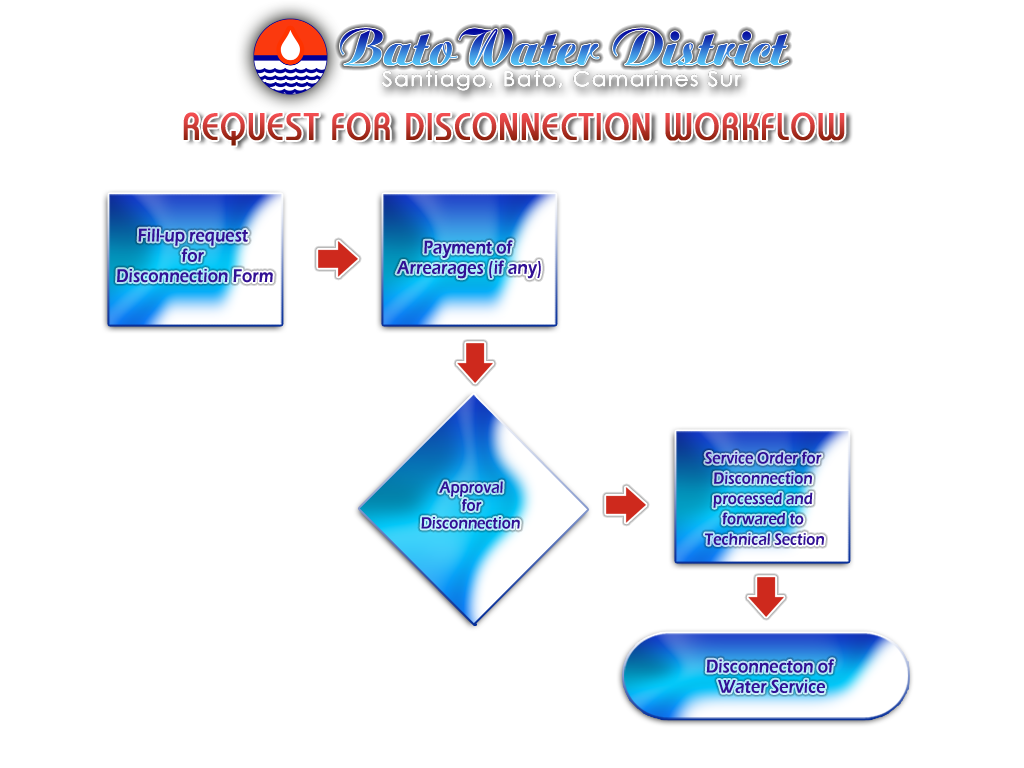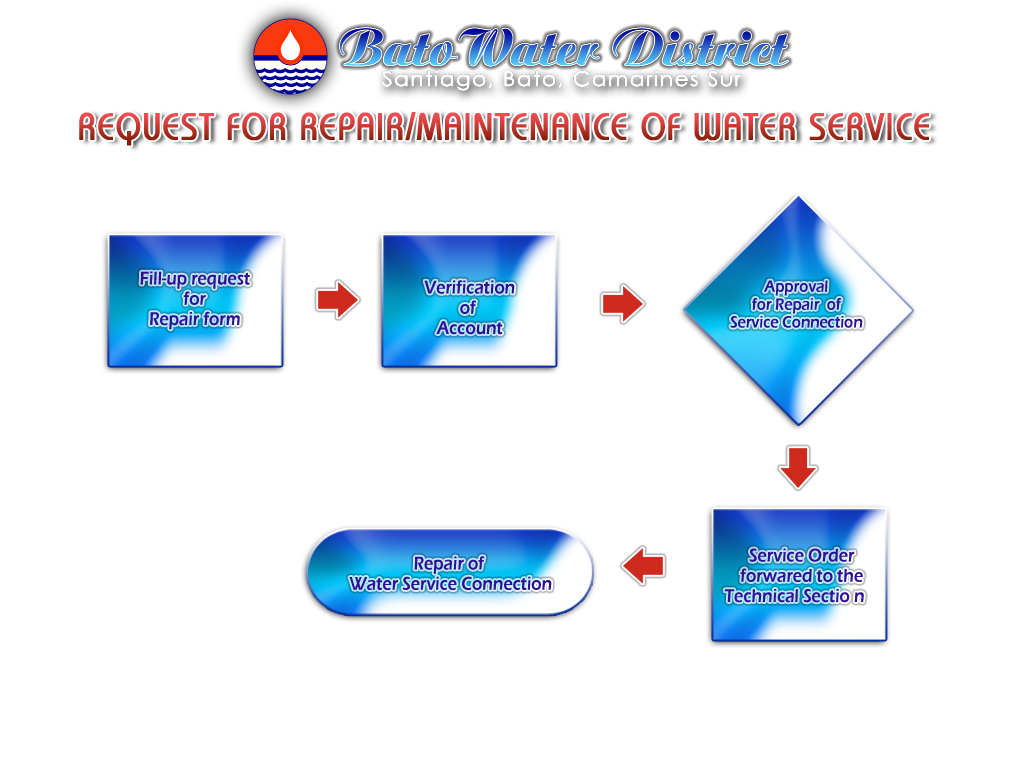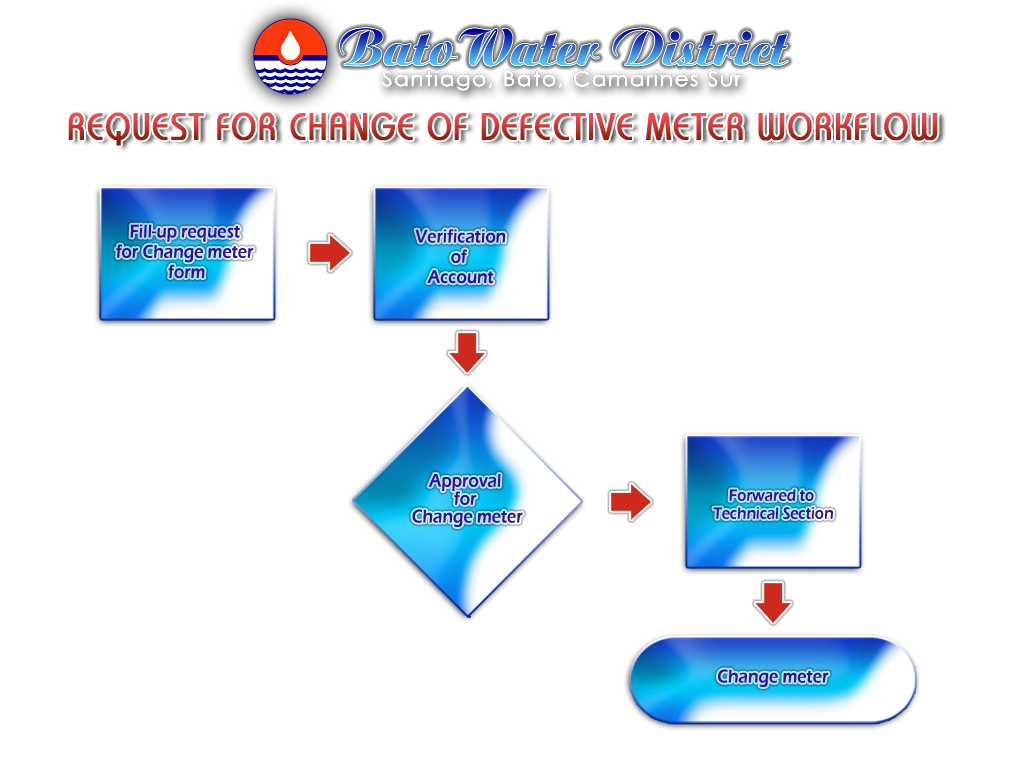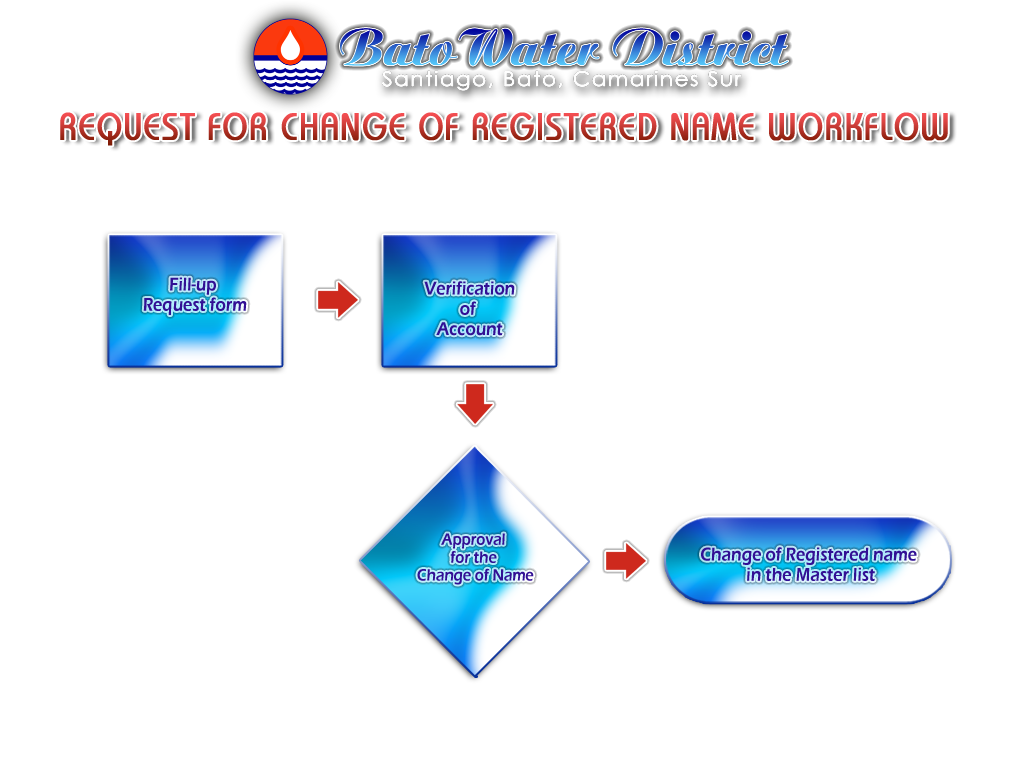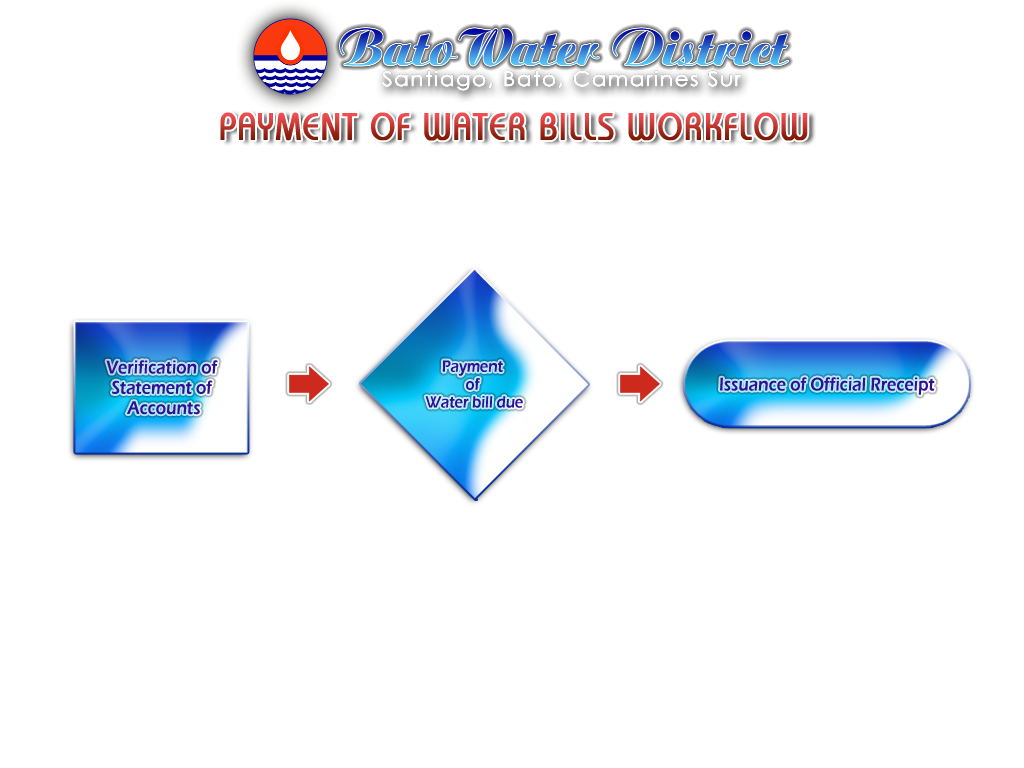 APPLICATION FOR NEW SERVICE CONNECTION
Activities/Process
Fees
Forms
Processing Time
Person In Charge
Instruction for the filling-up of Application form
n/a

Application form

10 minutes
Peñaflorida, Toni Grace R.
ADMIN. SERVICES ASST. C
Inspection of the proposed area
n/a

Service Construction & Application Order

15 minutes
Duncab, Zaldy A.
WRFO- B
Procure signature and approval of officer from BWD
n/a

Service Construction & Application Order

5 minutes
Duncab, Zaldy A.
WRFO- B
Payment at the BWD office

P 1,650.00 (+ other fees)

Official Receipt

5 minutes

Hernandez, Marieson B.
CASHIER C
Approval of Application of New Concessionaire
n/a

Application Form/ official receipt

3 minutes
Bonnevie, Paul Raymond L.
GEN. MANAGER D
Service order are processed and forwarded to Technical section
na
Application Form/ official receipt
45 minutes
Duncab, Zaldy A./Sacueza, Edwin
WRFO- B
Connection of New Water Service
n/a
Application Form/ official receipt
Accomplished 3 working days upon payment
Duncab, Zaldy A./Sacueza, Edwin
WRFO- B
END OF TRANSACTIONS
REQUEST FOR RECONNECTION
Activities/Process
Fees
Forms
Processing Time
Person In Charge
Fill-up request form
n/a
Request
For Reconnection Form
5 minutes
Peñaflorida, Toni Grace R.
ADMIN. SERVICES ASST. C
Payment of Arrears/Accounts
outstanding balance
Official Receipt
5 minutes
Hernandez, Marieson B.
CASHIER C
Payment of Reconnection Fee
1 wk from disco-P 50.00

2-3 wks. from disco- P100.00

More than 1 mo. From disco.- P 500.00
Official Receipt
5 minutes
Hernandez, Marieson B.
CASHIER C
Aapproval for Reconnection
n/a
Request for Reconnection Form/ Official Receipt
2 minutes
Bonnevie, Paul Raymond L.
GEN. MANAGER D
Processing of reconnections forwared to Technical Section
n/a
Request for Reconnection Form/ Official Receipt
30 minutes to 1 hour
Duncab, Zaldy A./Sacueza, Edwin
WRFO- B
Reconnection of Water Service
n/a
Request for Reconnection Form/ Official Receipt
Accomplished within 2 days upon payment
Duncab, Zaldy A./Sacueza, Edwin
WRFO- B
END OF TRANSACTIONS
REQUEST FOR DISCONNECTION
Activities/Process
Fees
Forms
Processing Time
Person In Charge
fill-up request for disconnection form
n/a
disconnection request form
3 minutes
Peñaflorida, Toni Grace R.
ADMIN. SERVICES ASST. C
payment of arrearages (if any)
outstanding balance
Official Receipt
5 minutes
Hernandez, Marieson B.
CASHIER C
approval for disconnection
n/a
disconnection request form/official receipt
2 minutes
Bonnevie, Paul Raymond L.
GEN. MANAGER D
Service order for disconnection processed and forwared to Technical Section
n/a
Service order/Disconnection request form/Official receipt
15 minutes
Peñaflorida, Toni Grace R.
ADMIN. SERVICES ASST. C
approval for disconnection
n/a
Service order/Disconnection request form/Official receipt
Accomplished within 2 day upon receipt of request
Duncab, Zaldy A./Sacueza, Edwin
WRFO- B
END OF TRANSACTIONS
REQUEST FOR REPAIR/MAINTENANCE OF WATER SERVICE
Activities/Process
Fees
Forms
Processing Time
Person In Charge
fill-up request for repair form
purchase of materials needed for repair (price varies depending on material used
request for repair/maintenance repair form
3 minutes
Peñaflorida, Toni Grace R.
ADMIN. SERVICES ASST. C
approval for repair of service connection
n/a
request for repair/maintenance repair form
3 minutes
Bonnevie, Paul Raymond L.
GEN. MANAGER D
Service order forwared to the Technical Ssectio n
n/a
request for repair/maintenance repair form
30 upon receipt of complaint
Peñaflorida, Toni Grace R.
ADMIN. SERVICES ASST. C
repair of water service connection
n/a
request for repair/maintenance repair form
Accomplished within 3 working days upon receipt of complain/t detection
Duncab, Zaldy A./Sacueza, Edwin
WRFO- B
END OF TRANSACTIONS
REQUEST FOR CHANGE OF DEFECTIVE METER
Activities/Process
Fees
Forms
Processing Time
Person In Charge
fill-up request for change meter form
n/a

Note: if purposely damaged upon investigation, payment of
P 950.00 is required
Request for transfer of water meter form
3 minutes
Peñaflorida, Toni Grace R.
ADMIN. SERVICES ASST. C
approval for change meter
n/a
Request for transfer of water meter form
2 minutes
Bonnevie, Paul Raymond L.
GEN. MANAGER D
Forwared to Technical Section
n/a
Request for transfer of water meter form
10 minutes upon receipt of request
Peñaflorida, Toni Grace R.
ADMIN. SERVICES ASST. C
change meter
n/a
Request for transfer of water meter form
accomplished within 3 working days upon receipt of request
Duncab, Zaldy A./Sacueza, Edwin
WRFO- B
END OF TRANSACTIONS
REQUEST FOR TRANSFER OF WATER METER LOCATION
Activities/Process
Fees
Forms
Processing Time
Person In Charge
fill-up request form
fees depends on the materials used for the relocation of water meter plus
Php 200.00 relocation fee
Request for transfer of water meter form
5 minutes
Peñaflorida, Toni Grace R.
ADMIN. SERVICES ASST. C
approval for the relocation of water meter
n/a
Request for transfer of water meter form
3 minutes
Bonnevie, Paul Raymond L.
GEN. MANAGER D
Service order forwarded to Technical Section
n/a
Service Oorder
10 minutes upon receipt of request
Peñaflorida, Toni Grace R.
ADMIN. SERVICES ASST. C
relocation of water meter
n/a
Request for transfer of water meter form
Accomplished 3 working days upon receipt of request
Duncab, Zaldy A./Sacueza, Edwin
WRFO- B
END OF TRANSACTIONS
REQUEST FOR CHANGE OF REGISTERED NAME
Activities/Process
Fees
Forms
Processing Time
Person In Charge
fill-up request form
Php 100.00
request for change name form
3 minutes
Hernandez, Marieson B.
CASHIER C
approval for change name
n/a
request for change name form
3 minutes
Bonnevie, Paul Raymond L.
GEN. MANAGER D
change of registered name in the master list
n/a
request for change name form
3 minutes
Peñaflorida, Toni Grace R.
ADMIN. SERVICES ASST. C
END OF TRANSACTIONS
PAYMENT OF WATER BILLS
Activities/Process
Fees
Forms
Processing Time
Person In Charge
verification of statement of accounts
n/a
Statement of Accounts/Master List of Concessionaires
30 seconds
Hernandez, Marieson B.
CASHIER C
payment of water bill due
depends on the water bill due
Official Receipt
3 minutes
Hernandez, Marieson B.
CASHIER C
issuance of official receipt
depends on the water bill due
Official Receipt
3 minutes
Hernandez, Marieson B.
CASHIER C
END OF TRANSACTIONS